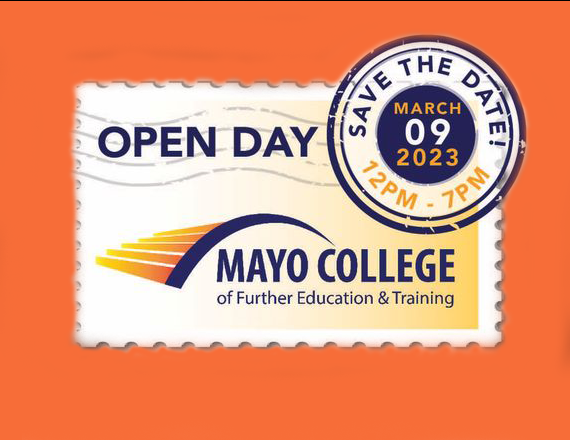 Open Day at Mayo College of Further Education & Training, Thursday 9h March from 12pm – 7pm
Mayo College of Further Education & Training will be holding an open day in all their locations throughout Mayo on 9th March 2023 from 12pm – 7pm.
The Open Day will allow potential learners to meet teachers and tour all the college facilities in the main campus locations in Ballina, Belmullet, Castlebar and Westport and College Hubs in Ballina, Castlebar, Swinford, Achill and Ballinrobe.
The addresses of the college locations are as follows:
Castlebar Campus, Newtown, Castlebar, Co. Mayo, F23EW84
Westport Campus, Newport Road, Westport, Co. Mayo, F28TP82
Ballina Campus, Abbey Street, Ballina, Co. Mayo, F26E264
Belmullet Campus Chapel Street, Belmullet, Co Mayo, D26 D8H2
Achill VTOS Hub, Currane, Achill, Co Mayo F28 TF68
Castlebar VTOS Hub, Lucan Street, Castlebar, Co Mayo, F23 FW70
Swinford VTOS Hub, Dublin Road, Swinford, Co Mayo, F12 DC93
Ballinrobe VTOS Hub, Neale Road, Ballinrobe, Co Mayo F31 FK54
Ballina VTOS Hub, Cathedral Road, Ballina, Co Mayo, F26 FEF4
Mayo College of FET will have over 50 FET/PLC Level 4, 5 and Level 6 QQI Courses on offer for September 2023. These courses will enable learners to meet the demands of the modern social and economic environment. The college offers exceptional educational opportunities for school leavers, lifelong learners, returning learners and the wider community. It will serve as a dispersed centre of learning for the region, affording learners the opportunity for academic, employment and social progression.
Work placement is an integral part of all programmes. There has been significant investment in IT facilities which are of an exceptional standard. Programmes are constantly updating and developing to suit the workplace, the economy and third-level opportunities. Therefore, the success rate of learners on completion of their courses is excellent. Many have progressed to third level institutions nationally and internationally, or set up successful businesses, while others have found employment in their chosen field via well-established links with employers and business organisations in the region and elsewhere.
During the 2023-2024 academic year learners will be given the opportunity to partake in Erasmus+ paid work placement in several European countries including France, Spain, Estonia, Iceland, Germany, Finland and Denmark. In 2023 nearly 100 learners availed of this life changing opportunity.
There are over 100 laptops to loan to learners through the laptop loan scheme.  In addition to these laptops, learners can avail of free copies of Office 365 and Adobe Creative Cloud, as appropriate to their course requirements.
As part of the College experience, learners can set up or join clubs and societies, play football in competition with Institutes of Technology and other FET centres, or gain leadership skills by becoming a class representative or member of the Student Council.
The approach to teaching and learning across our campuses is both positive and affirming. Disability Support Staff will assist learners with documented disabilities/specific learning difficulties, while our Guidance Counsellors will help those seeking careers advice or encountering personal issues.
For more information on all the courses on offer and to apply please visit www.mayocollege.ie. Please call (094) 902 3134 or email [email protected] with any queries.